Data center – DC25 – Internal
EOLIOS Engineering carried out the sizing and urbanization studies of a data center. Several crisis scenarios have been studied in order to test the resilience of air conditioning systems.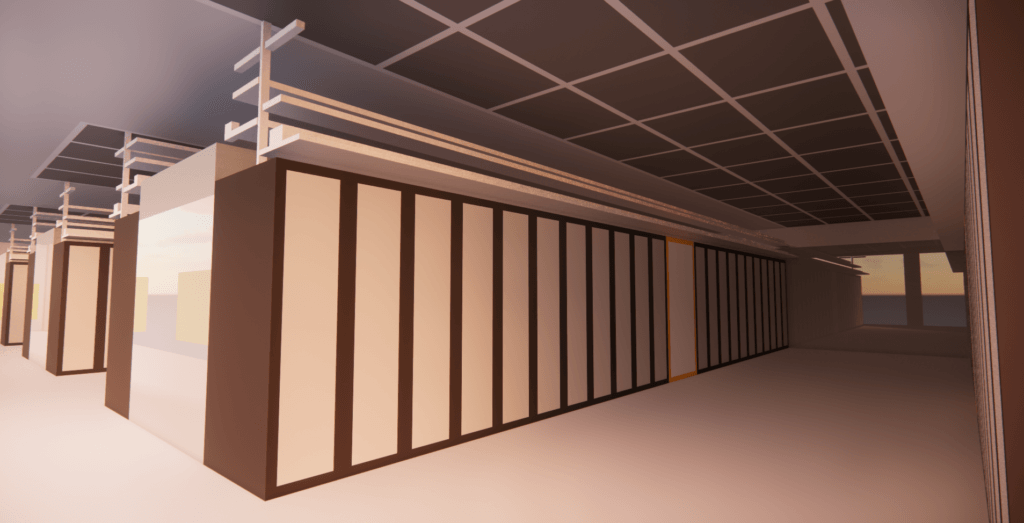 Data center - DC25 - Internal
Description of the CFD mission
Within the framework of the design of a data center in partnership with IMOGIS, EOLIOS realized the dimensioning of the climatic installations of a data center. The first studies focused on the design of hot and cold aisles. Indeed, although this type of design is now known and mastered, the effectiveness of this type of partitioning has once again been demonstrated.
Thus, without partitioning, numerous recirculations could be highlighted, leading to a generalized overheating (up to +20°C compared to the Ashrae design criteria retained) in the room. In parallel, the principle of diffusion in cold aisles was studied.
The challenge was to study the risk of the appearance of hot spots in space according to different critical urbanizations. It was thus possible to highlight the effectiveness of the regulation systems of the false diffusing ceiling allowing to bring a great flexibility in the distribution of the server powers of the room. Several scenarios have thus been studied, making it possible to apprehend several unfavorable operating modes.
It was possible to highlight global aeraulic movements in the space, which can concentrate the calorific rejections of the systems, cabinets and lighting in some unfavorable points. Phenomena that could be logically optimized by the addition of modular grids in some specific areas of the server hall.
CFD identification of overheated plumes in the data center
Once the design was optimized, concessionary power failure studies were performed to estimate the maximum temperature extremes and the duration of exceeding the temperature thresholds for the worst case servers.
Recommendations were made on installing an inverter for certain control systems in order to speed up the restart of the back-up systems and limit the rise in temperature in the room.
Continue with the same subject
Video summary of the study